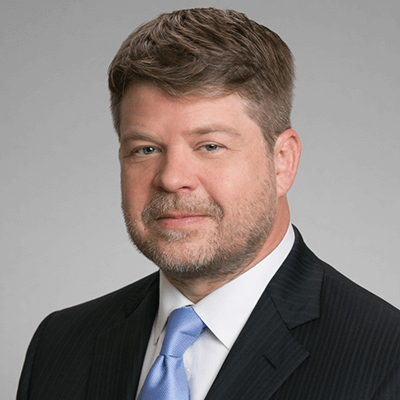 Of Counsel, Hughes Arrell Kinchen LLP
Pat is an experienced trial lawyer and mediator with more than 20 years' experience. His practice focuses on commercial litigation, financial services, creditor's rights, real estate and construction. He is based in the Houston office and routinely appears in federal and state courts throughout Texas.
Pat has extensive experience defending mortgage loan servicers, investors, and originators against individual and class consumer claims, including those arising under federal laws - the Truth in Lending Act, Real Estate Settlement Procedures Act, Fair Credit Reporting Act, Equal Credit Opportunity Act, Fair Housing Act, and Fair Debt Collection Practices Act - and state fair lending, collection, and deceptive trade practice laws. He also has experience representing owners, contractors and subcontractors in construction litigation, title disputes and other real estate litigation.
Prior to joining Hughes Arrell Kinchen LLP, Pat was in-house with a major banking institution and an institutional investor where he managed large volume litigation nationwide.
Professional Background
Hughes Arrell Kinchen LLP, Of Counsel, 2014-Present.
Education
A.A. White Dispute Resolution Center, Certified Mediator, Civil and Family 1996
The University of Houston Law Center, JD 1996
The University of Texas at Austin, BA 1993
Recent Representative Engagements
Represented a national mortgage servicer in all litigation matters and the sale of Southwest Division and Construction Lending Division, as well as in the sale of other assets/facilities. Monitored local counsel handling litigation matters in other states and provided clients, insurers and auditors with reports on the status of threatened and active litigation and other potential liabilities.
Represented mortgage company in REO tax issues, foreclosures and evictions.
Represented mortgage servicer in TRO and wrongful foreclosure lawsuit in Comal County. The Plaintiff's claims were ultimately dismissed on summary judgment and the foreclosure confirmed.
Represented a national mortgage servicer in the prosecution of fraud claims against mortgage brokers in Texas and Illinois.
Defended national collection agency and four individuals in Fair Debt Collection Practices Act, Fair Credit Reporting Act and Texas DTPA claims. The case was tried in federal court in Fort Worth. The Plaintiff was seeking more than $170K in damages and was awarded only $10K.
Represented individual Debtor sued for more than $800K in unsecured debt. The competing claims were brought in an adversary proceeding and later tried in Harris County District Court. The Plaintiff was claiming more than $800K under the terms of the Note. The trial court returned a judgment for less than $400K forcing the Plaintiff to amend its Proof of Claim and permitting the Debtor to have the Plan confirmed.
Represented a national homebuilder in all litigation matters within Texas, including lien claims, construction defect claims, disputes with subcontractors/suppliers and employment.
Represented commercial/residential concrete subcontractor in all matters – litigation, transactions, employment.
Represented regional restaurant in issues arising during development and construction of restaurant locations.
Represented oil services companies in trial over rights to the company stock filed by the beneficiaries of a testamentary trust created by the owner of the companies. The lawsuit alleged claims against the directors of the companies and the executor of the trust for breaches of fiduciary duty. The companies were dismissed after 2 weeks of trial.
Represented medical services company in breach of a contract claim against manufacturer for failure to manufacture, test and deliver a number of multi-million dollar medical waste treatment and sterilization units.
Represented individual and his company in claims against a regional bank relating to ethnic discrimination, assault and battery, and breach of contract. The lawsuit was settled on the eve of trial with a significant recovery for both the individual and the company.
Authored the appellate brief of psychiatrist in the appeal of a Family District Court ruling compelling the disclosure of confidential psychological records of his patient, a minor, to her parent, despite the patient's request that the records remain confidential and the psychiatrist's determination that disclosure would be harmful to the patient. The Texas Supreme Court held in favor of the psychiatrist with a written opinion at Abrams vs. Jones, 35 S.W.3d 620 (Tex. 2000).
Represented nationwide production homebuilder in a lawsuit filed by 150 homeowners alleging various construction defects and fraud in connection with the construction and sale of their homes, as well as claims of conspiracy to commit fraud in connection with Houston Lighting & Power's Good Cents energy efficiency program.
Defended lumber company in Dallas County jury trial against claims by salesman to commissions from the sale of sheetrock to customers throughout Texas. Plaintiffs' claims were dismissed on directed verdict.
Represented homebuilder in a lawsuit filed by 19 homeowners alleging various construction defects, fraud and breach of contract in connection with the construction and sale of their homes in Bexar County.
Defended foundation subcontractor in lawsuit alleging construction defects led to a foundation failure on a $1M home. The lawsuit also alleged that the stress from the foundation failure caused personal injuries, including a ruptured aneurism and stroke.
Represented concrete subcontractor in two lawsuits alleging construction defects in the parking garages and foundations of two multi-million dollar luxury apartment complexes.
Represented regional bank in lawsuits filed by owners of luxury townhomes alleging various causes of action related to a construction defect that caused structural steel support beams to rust and deteriorate.
Represented manufacturing company in the prosecution of claims against pavement contractor for defects in a $400K paving project.
Represented investment company and real estate partnership in an accounting dispute relating to the development, construction and sale of 6 custom homes in Houston, Texas.
Represented owner/partner and management company in a downtown Houston commercial/residential real estate development. The owner/partners did not execute a Partnership Agreement prior to the acquisition, development and operation of the property and had disputes regarding the proposed Partnership Agreement, as well as management and control of the property.